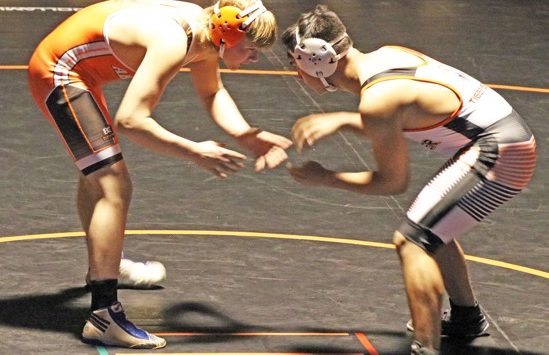 The Abilene Cowboy wrestling team improved to 3-0 in the NCKL Thursday night with a 54-24 victory at Clay Center.  The Tigers had 6 open weight classed in the duel.
106 Kaleb Stroda (Abilene) over Garrett Kalivoda (Clay Center) Fall 5:49
126 Parker Tholstrup (Clay Center)  over  Javin Welsh (Abilene) Fall 2:50
138 Reed Knitter (Clay Center) over Jackson Randles (Abilene) Dec 5-2
145 Austin Wuthnow (Abilene) over Ethan Kirkby (Clay Center) Fall :18
152 Ethan Alquist (Clay Center) over Braydon Surritte (Abilene) Fall 1:38
160 Shawn Liddle (Clay Center) over Trenton Wuthnow (Abilene) Dec 9-3
195 Josiah Schwarz (Abilene) over Zach Bollinger (Clay Center) Fall :24
285 Logan McDonald (Clay Center) over Brandon Parker (Abilene) Fall :30
Clay Center was open at 113, 120, 132, 170, 182, and 220.  Abilene will wrestle Saturday at Phillipsburg and then wrap up the regular season next week vs Chapman on Thursday and at Marysville on Friday.  Thursday's duel will be broadcast on KABI, the duel will get started at 6:30 and our coverage will begin at 6:15.