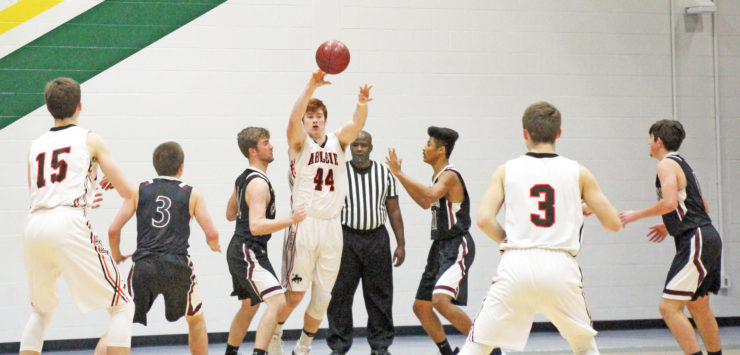 The Abilene High School basketball teams pick up a pair of wins in the consolation semifinals Friday and both will play for 5th place on Saturday in the Salina Invitational Tournament. The Cowgirls defeated Concordia 41-26.  It was the second time they had defeated the Lady Panthers this season.  The Cowboys didn't play well in the 4th quarter in their loss to Salina South but it was a different story Friday night in their 47-40 victory over Buhler.
The Cowgirls used a 16-0 run to blow their game open which started mid way through the first quarter.  Senior, Hannah Willey capped the run with a free-throw to make the score 22-9 with 2:50 to play in the second quarter.  The second quarter belonged to Abilene, the Cowgirls outscored Concordia 14-1 in the quarter to lead 26-10 at halftime.  Abilene would extend the lead to 34-17 as they entered the 4th and got up by as many as 22 in the final quarter.
Abilene was led by Senior, Sydney Burton, who finished with 13 points, while Willey finished with 10.  The Cowgirls improved to 9-1 and will face Buhler in the 5th place game, Saturday at 2:30, at Salina South.  Buhler improved to 5-5 with a 51-46 victory over Wichita West.  Concordia and Wichita West will play for 7th place.
In the second game of the day both Abilene and Buhler got off to a slow start.  The Cowboys led just 6-3 at the end of the first quarter and 16-15 at halftime.  The Crusaders used an 18 point 3rd quarter to take a 33-32 lead into the fourth quarter but struggled to score in the final quarter against Abilene.  The Cowboys outscored Buhler 15-7 in the final quarter and put the game away at the line as they buried 11-14 free throws.  Abilene was 20-27 at the stripe overall in the game.
Abilene was led by Junior, Travis Beetch for the second straight game.  He led all scorers with 15 points.  Senior, Preston Boyd also tied his season high with 14 for Abilene.  The Cowboys will play Liberal for 5th place, at Salina South, Saturday at 4:15.  Liberal defeated Concordia 49-41 on Friday. Concordia and Buhler will play for 7th place.