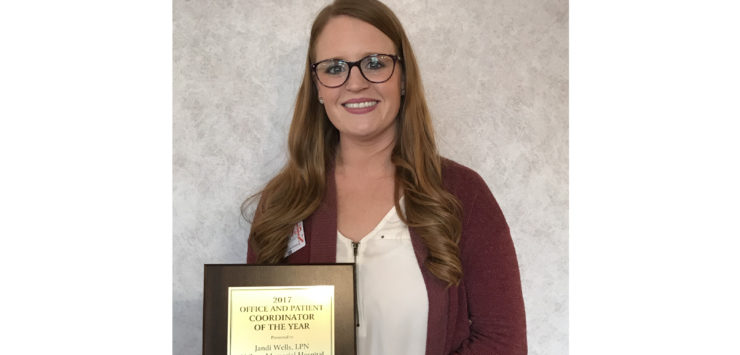 A staffer at Memorial Hospital in Abilene has been honored.
According to the hospital, Jandi Wells, LPN, Office and Patient Coordinator for the Memorial Hospital of Abilene's Senior Life Solutions program, has received the award for 2017 Office and Patient Coordinator of the Year.
Senior Life Solutions honors the top performing employees and programs annually based on their excellence in demonstrating the company's values of care, compliance, and community.  Award recipients demonstrated outstanding patient care, excellent comprehension and execution of compliance regulations, and strong community engagement.
Award recipient, Jandi Wells, said, "I am very honored. I have such an amazing team to work with, and that makes what I do so enjoyable and rewarding.  We are excited to come to work every day to provide our community with the best care possible."
Memorial Hospital of Abilene's Senior Life Solutions program, an intensive outpatient group therapy program, is designed to meet the unique needs of older adults over the age of 65 struggling with depression and anxiety often related to aging.  The program staff includes a board-certified psychiatrist, licensed social workers, a registered nurse, and other professionals dedicated to the emotional well-being of seniors in the community.
Family members, physicians, or other health professionals can refer individuals to the program.