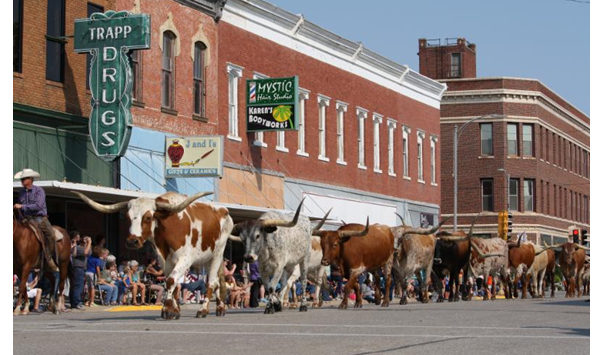 Abilene only needed five years to enter the Old West pantheon. Between 1867 and 1871, Texas cowboys drove longhorn cattle to Abilene on the Chisholm Trail-and the cattle trade attracted big names like Wild Bill Hickok, John Wesley Hardin and Ben and Billy Thompson. They, and so many anonymous drovers and merchants made Abilene a legend, one that lives today.
That is one reason Abilene is #1 among True West Magazine's 2018 Top Western Towns. Abilene is featured in the February 2018 issue, which hit newsstands on December 26, 2017.
"This designation celebrates Abilene's western heritage on a national scale," Julie Roller, Abilene Convention & Visitors Bureau director, said. "It recognizes the efforts of many community members and organizations to preserve and promote Abilene's cowtown roots."
At Old Abilene Town, tourists gather on Main Street to watch summertime gunfight re-enactments, or sip sarsaparilla while watching can-can dancers at the Alamo Saloon. Visitors can also relive  train travel with the Abilene & Smoky Valley Railroad, or attend the Wild Bill Hickok Rodeo; one of the PRCA's finest.
Visitors love spending time at the Dickinson County Heritage Center and learning about Abilene's wild and wooly past.
"We are so proud that Abilene was selected as the #1 True Western Town of the Year," Michael Hook, Dickinson County Heritage Center director, said. "It's great to be at the top of the list and compared to other legendary cowtowns."
In addition, the Eisenhower Presidential Library, Museum & Boyhood Home and the Great Plains Theatre both host special exhibits and presentations celebrating Abilene's Chisholm Trail and cowboy history.
"Abilene was the first and greatest of the Kansas cowtowns, one that helped establish the legend of the Old West," says True West Executive Editor Bob Boze Bell.  "Fortunately for all of us, Abilene hasn't forgotten where it came from-in fact, it maintains, celebrates and promotes that history, and does so amazingly well. There's no question that Abilene is the Top True Western Town."
This is the thirteenth year True West has presented this annual award. Editors base their selection on criteria demonstrating how each town has preserved its history through old buildings, museums and other institutions, events, and promotions of historic resources.
True West magazine is in its 66th year of leading the way in presenting the true stories of Old West adventure, history, culture and preservation. For subscriptions and more information, visit TWMag.com or call 888-687-1881.