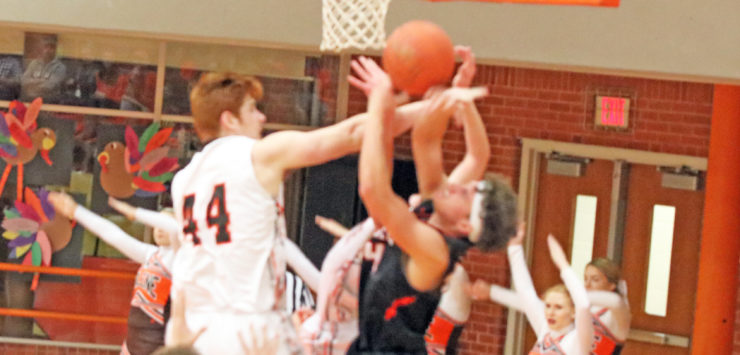 The Abilene Cowgirls remained undefeated 6-0, 3-0 with a 55-47 victory over Maryville Friday night at Abilene High School.  In the second game of the night, the Cowboys nearly overcame a 15 point second half deficit in their 39-38 loss to the Bulldogs. 
The Cowgirls were hurt by slow starts in their two games last season with Marysville.  They split with the Lady Bulldogs last season.  In the second meeting with Marysville last year, the Cowgirls lost 47-32 and were shut out 16-0 in the first quarter.  There would be no slow start Friday night as the Cowgirls out scored the Lady Bulldogs 18-13 in the first quarter.  The Cowgirls got off to the fast start with balance as six different players scored in the opening quarter. Freshman, Jenna Hayes led the way with 5 first quarter points on her way to a career high 11 points. 
The Cowgirls had trouble putting away the Lady Bulldogs 3-4, 2-2.  They would lead 28-26 at halftime and 40-36 going in to the final quarter.  The Cowgirls would finally put away Marysville at the free throw line.  Senior, Sydney Burton was 8-10 at the stripe and finished with a game high 21 points.  Senior, Hannah Willey also reached double figures with 12 points. 
The Cowboys, unlike the Cowgirls started their game slowly.  They fell behind 18-6 at the end of the first quarter and trailed 26-12 at halftime.  The Cowboys would trail by as many as 15 points in the third quarter but would cut the deficit to 31-24 by the end of the third.  In the 4th quarter they would tie the game on a pair of free throws by Junior, Travis Beetch with 1:20 to play in the game.  Marysville would get a free throw by Junior, Cody Brown with 6.3 seconds left and that would prove to be the winning point.
Abilene was led by Freshman, Kaleb Becker, who finished with 10 points.  The Cowboys now 4-2, 2-1 will host Wamego on Tuesday.  The Wamego boys fell to Concordia at home 75-71 in overtime and the Wamego girls won 52-42 over the Lady Panthers.  The Marysville Boys improved to 5-2, 3-1 with the victory over Abilene.  They will travel to Concordia on Tuesday.