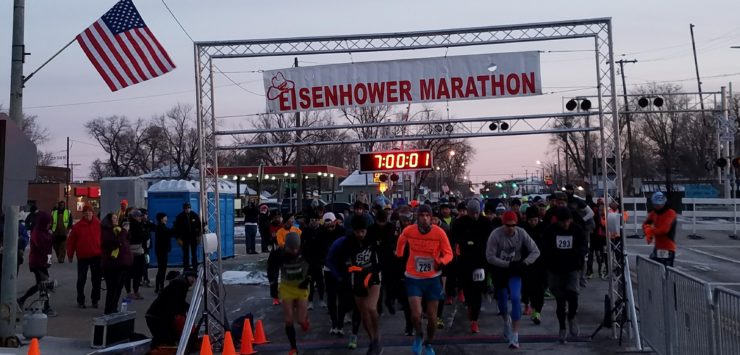 Record cold did not stop hundreds of runners from hitting the streets in and around Abilene on Saturday for the 16th running of the Eisenhower Marathon.
Despite the bitter cold, the wind chill was 6 degrees at the start, and dusting of snow on the ground, over 300 runners participated.
This year there were new winners in every race.
Dan Berteletti from Golden, Colorado, won the men's marathon. He told KSAL News that he is an ultra runner, meaning he competes in races than can be upwards of 100 miles on a variety of terrain. It was his first time running the Eisenhower Marathon and he edged out 6 time winner Daniel Craig of Gypsum, who finished second.
In the women's race Massachusetts runner Amy Flynn was the winner. She told KSAL News she will run the Boston Marathon next. It's her goal to qualify for Boston in all 50 states in her lifetime. So far, she has qualified in 46. This was her first Eisenhower Marathon.
Abilene native James Wilson won the men's half-marathon. Wilson ran in college and KU and is currently a part-time assistant coach there. This was his first entry in his hometown event.
Triathlete Holly Beavers from Belleville won the women's half marathon.
Other winners on Saturday include:
10K
Men – Miles Marshall, Gardner
Women-Katie Vogel, Lindsborg
5K
Men -Lile Budden, Colorado Springs
Women – Jennifer Johnson, Hays
The Eisenhower Marathon is one of the largest events of its kind in Kansas. It is a qualifying event for the Boston Marathon. It attracts runners from all over the country, and in some years, from all over the world.
Runners wound through the territory south of Abilene that cattlemen followed when bringing their herds to Abilene on the Chisholm Trail in the 1800s.
Organizer June DeWeese credits a dedicated group of volunteers to making the event a success.
Dan Berteletti wins the men's marathon:
Dan Bertellati from Golden, Colorado, wins the Eisenhower Marathon.

Posted by KABI the General on Saturday, April 7, 2018
Amy Flynn wins the women's marathon:
Amy Flynn wins the Eisenhower Marathon in the women's division.

Posted by KABI the General on Saturday, April 7, 2018