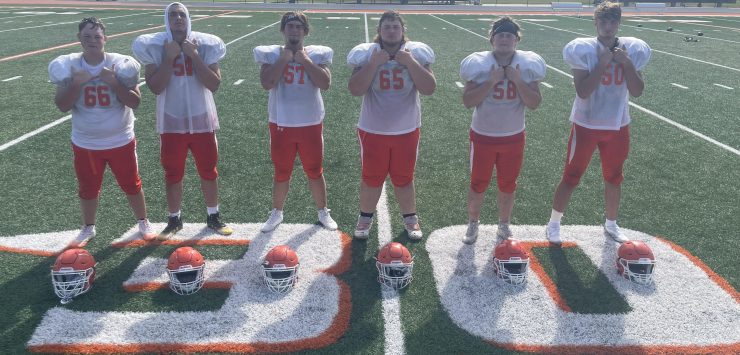 pictured offensive lineman: #66 Hunter Clark, #54 Sam Whitehair, #57 Kayden Timm, #65 Gavin Runyon, #58 Devin Alvarez & #50 Tyler Holloway
The Abilene Cowboy football team ended their 25-game losing streak in week 1 last season, in a 14-7 victory over Marysville.  Abilene went on to finish the year 4-5 and lost in the opening round of the playoffs at home 23-6 to Rose Hill.  It was the second loss of the season to the Rockets, a team they will play again this year on September 29.
2023 will be year four for Abilene Head Coach Brad Nicks, and the expectations are high for a Cowboy team that brought back nearly every starter on both sides of the ball. The Cowboys hope to put together their first winning season since 2016 and notch their first playoff victory since 2015.
On offense, Abilene brought back 9 starters and every skill position player.  The Cowboys are led by Senior QB, Stocton Timbrook.  Timbrook, a three-year starter, completed 146-257 passes for 1,753 yards with 14 touchdowns last year.  Abilene has a deep receiving group that experienced key injuries a season ago.  Senior Brax Fisher, caught 7 passes for 118 yards and 2 touchdowns in the Cowboy's season opening victory over Marysville but then got injured and caught just 1 pass the remainder of the season.  Junior, Weston Rock, battled injures throughout the season but still led the team with 41 catches for 508 yards.  In addition, 4 other players caught at least 18 passes for Abilene.
On the ground the Cowboys are led by three-year starter Zach Miller.  Miller led the team with 134 carries for 464 yards and 3 touchdowns a season ago.  He also caught 18 passes for 68 yards out of the back field.
Much of Abilene's success this season will hinge on the performance of their offensive line.  The group, coached by Dan Rheingans, brought back four starters from last season in Junior's Tyler Holloway and Devin Alvarez along with Senior Gavin Runyon.  Senior Sam Whitehair, is healthy and back.  He started last season but got hurt week four vs Chapman. The Cowboys have additional depth and experience with Senior's Kayden Tim and Hunter Clark. The coaching staff feel positive about the group and the progress they made in the offseason.
On the defensive side of the football, the Cowboys welcomed back 10 starters and their top 4 tacklers from last season.  Abilene was led by Junior Free Safety, Joseph Welsh, with 87 tackles.  He took over for Fisher after week 1.  The Cowboys also got 78 tackles from Junior, Landon Taplin despite missing time with an injury.
The Cowboys will compete in a strong NCKL.  Abilene's only league losses were to Wamego and Clay Center last season. Wamego finished 12-1 and lost in the State Championship 35-16 to Bishop Miege.  The Red Raiders, coached by former Salina South standout Weston Moody, had their deepest post-season run since 1975.  Clay Center also had a break-through season under the leadership of Marc Henry.  The Tigers finished 8-4 which was their deepest run since 1983. They lost in the semifinals at Andale 36-0.
Abilene will open the season at Marysville on September 1st.  It will be their first trip to Marysville since 2017.  The Bulldogs finished 3-6 last season under first year Head Coach Tony Trimble.  You can catch the Cowboys all season long on AM 1560 KABI, 95.9 FM and kabithegenral.com.
2023 Abilene Football Schedule
9/1 – at Marysville
9/8 – Concordia
9/15 – Clay Center
9/22 – at Chapman
9/29 – at Rose Hill
10/6 – Towanda-Circle
10/13 – at Augusta
10/20 – Wamego
10/27 – Playoffs